What Happens to the Used Devices?
Do you still have surplus IT devices in your inventory? They are too good to simply be disposed of. But when you market them, you load up a whole list of additional tasks, including
taking back the devices as well as the associated logistics, administration, warehousing and appropriate storage;
the secure removal of company data from computers;
the cleaning of devices as well as the reordering and replacement of faulty parts;
and the sale of devices including shipping and all accompanying services and warranties.
Just Leave the Resale to Us
For many of our customers the effort is simply not affordable. Therefore, we take over the following tasks in the context of the resale:
We take over surplus devices for you.
Before the resale we provide a secure data deletion. Your company data will be irrevocably removed from the devices.
We take care of sales, shipping, service as well as the right of return and warranty.
You don't have to worry about anything anymore.
Economically Sensible and Environmentally Friendly
Our service for the resale of your devices ensures that you keep your working capacities free for your core tasks. At the same time, the sale of the devices means an economically sensible, environmentally friendly and resource-saving return of high-performance devices to the market.
NBWN – Notebooks wie neu
Our sales organization, MKCL Remarketing GmbH, markets the demopool devices returned from the test positions to dealers and consumers via the brand "NBWN – Notebooks wie neu" (notebooks as new).
The notebooks, tablets & computers are used very little before they are refurbished in our maintenance center so that they are as good as new when sold. Most of them even have a manufacturer's warranty that is still valid. Thus, we can offer high-quality business hardware at attractive prices on notebookswieneu.de.
In addition, we also market other used devices from various projects.
(1) The devices are produced by the manufacturer.
(2) The devices are made available for testing in the demopool.
(3) A company receives one or more devices for testing.
(4) After a few weeks, the devices are returned and go into remarketing. They are subject to an optical & technical examination, as well as a revision-safe data deletion.
(5) The renewed devices are offered for sale via our online shop notebookswieneu.de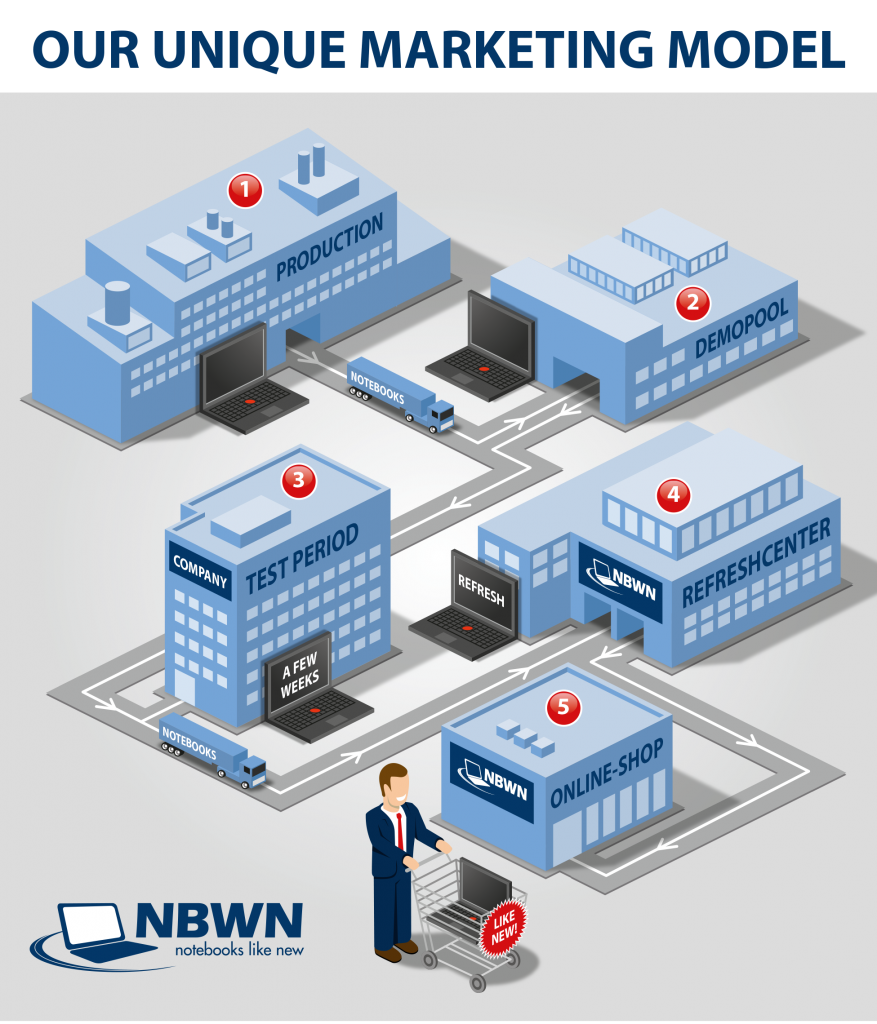 Contact us for your resale project. You can reach us by e-mail at bv@mkcl.de. Your contact person is Birgit Voll.